Garage Door Repair Thornhill
Local Thornhill Garage Door Opener and Repair
installations and repairs of commercial and residential garage doors in Thornhill ,we do garage doors openers , springs ,cable and drum repair and replacements.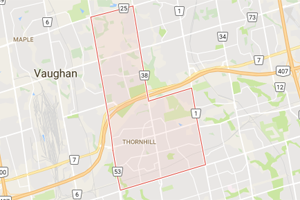 Your home in Thornhill already looks great, but did you know that with a new garage door installation you could upgrade the appearance of your home to the next level?  The garage door of your home is one of the first things that visitors will notice.  It can really make or break someone's first impression of a place so you want your garage door to look its best.  At Express Garage Doors we work hard to ensure that the garage doors we install in the Thornhill area are of the highest quality materials, they look good and provide security for you and your family.
Garage Door Repair and Installation in Thornhill
Garage door installation can be a difficult process. One of the most complex components to install is the garage door spring.  When are installing a garage door spring we have all of the required training and equipment to make sure that it goes as smoothly as possible.
The cable of a garage door is essential to the operation of the door. By taking the time to test after the garage door installation that the door opens and closes as it should, we make sure that you will have no problems with your new Thornhill garage door installation.
Maintenance is important for every garage door that we install. That is why we will be on hand to come and inspect your garage door to ensure that none of the parts need to be replaced or have become misaligned.
Getting in touch with the Express Garage Doors team is the first step to repairing or replacing any component of your garage door.  If you have even a slight suspicion that your garage door is not working as it should then contact us today and we can help identify what the issue is and have it fixed in no time.
Same Day Professional Commercial Garage Door & Opener Service Thornhill
We Only Repair What is Actually Broken
Flat Rate Spring Changes
Fully Trained Technicians
Fully Insured, Licensed
Thornhill Garage door is your  ideal Source for Commercial Overhead Door & Opener Repairs & Maintenance.
Undergound Parking & Parkade Doors & Gates
Rolling Steel Garage Doors
Warehouse & Service Bay Overhead Doors
Sliding / Swing Gates & Gate Operators
Counter Shutters
Rolling / Sliding Security Grilles
Trolley & Side Mount Openers
Docking equipment
Truck doors
Commercial door operators
ALL MAKES, MODELS & BRANDS!
For more info on Thornhill Garage Door Repair please call now : 647-277-1182