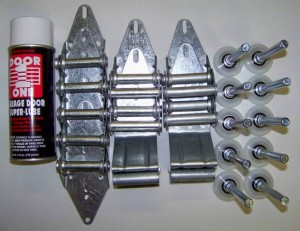 Failure to maintain them properly will lead to garage door defects making it expensive to replace and repair the broken garage door parts.Thus, new garage door installation will require maintenance.A homeowner needs to engage the services of renowned companies that are experienced in all garage door repairs, replacements, inspection, maintenance and installation. In Toronto,the most skilled staff and trusted company is Express Garage Door Toronto who have proved their prowess in all garage door services for a number of years.They deal in all types and sizes of Garage Door Accessories like springs, locks, openers, cables, drums, tracks, panels and remotes. Overhead Garage Doors have metal parts that require constant oiling.These parts are pulleys,bearing,hinges,rollers,chains,springs and Torsion spring cables. Lubricating these metal parts helps a great deal in preventing rust and squeaky noise from your garage doors. Whether your garage door is manual or uses garage door opener,it is important to have it operating properly by lubricating it frequently.To be safe,it is advisable to use grease that is recommended by the manufacturer of your home garage door opener. Lubricating your door and springs at least twice a year will keep them running smoothly.
Steps to Lubricate an Overhead Garage Door.
>Before you lubricate your overhead garage door,it is safe and secure if you first unplug it from its source of power just in case one may try opening it using a remote.After this,try opening the garage door keenly observing all the parts that move since such areas require oiling.
>Since dust,cobwebs and other particles may gather on your door,try wiping all the areas before oiling the hinges and garage door tracks.There are two main types of lubricants used on garage doors.For rollers,pulleys and hinges,only oil is required and not grease while Silicone lubricant works best on springs and tracks.Apply oil on the four hinges of the garage door opener.
>Next,on each roller,apply about a drop or two of the lubricating oil.Then,do the same to the pulleys on both sides of your garage door.lf your door has bearings,ensure you apply grease on them and not oil.
>Next,clean your springs,chains or gear off any dust with a clean piece of cloth and apply oil to them too.Ascertain that all parts of the gears or chains have been well lubricated with enough grease.
>After you have done the greasing and oiling of all parts thoroughly,plug in the garage door opener.To make the oil and grease spread evenly on the parts,open and close your overhead garage door a few times to lubricate all metal parts.
>When all that is done,wipe your garage door clean of any oil or grease. Express Garage Door Toronto are available for all garage door services 24 hours and are stocked with all types of garage door parts that a homeowner would require.They respond to your distress call with an hour whether it is on holiday or weekends.They observe strong professional work ethics.Be served by the best on any garage door errors and defects.