Oakville Garage Door Repair

installations and repairs of commercial and residential garage doors in Oakville we do opener ,  springs ,cable and drum repair and replacements .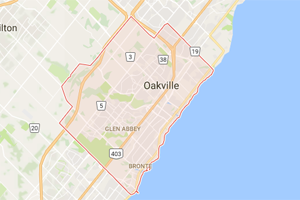 Oakville homes are beautiful and you are probably very proud to live in such a great area.  You want every aspect of your home to be perfect.  So why not consider upgrading the look of your garage door?  Express Garage Doors are able to perform perfect garage door installations every time.  We can also repair and replace any garage door component so that your Oakville garage door remains reliable and looks great.
Garage Door Repair and Installation in Oakville
A faulty garage door can cause all kinds of frustrations and problems. One of the usual suspects that is usually the cause of most garage door issues is the garage door spring.  We can safely remove and replace any garage door spring and give you back the ability to open and close your garage door with ease.
Garage door cable installation should only be attempted by professionals. To properly instal a garage door spring you need the experience and knowledge that only our team of experts has.  Your Oakville home will thank you for it in the long run.  Any mistakes made during the garage door cable installation could significantly shorten the lifespan of the cable.
It is no use to simply have the garage door installation completed then sit back and ignore it. The garage door of your Oakville home is probably used more than once a day, so you really need to make sure that it is maintained properly. The Express Garage Doors team can do this for you.
Getting in touch with the Express Garage Doors team is the first step to repairing or replacing any component of your garage door.  If you have even a slight suspicion that your garage door is not working as it should then contact us today and we can help identify what the issue is and have it fixed in no time.
Oakville Garage door is your  ideal Source for Commercial Overhead Door & Opener Repairs & Maintenance.
Undergound Parking & Parkade Doors & Gates
Rolling Steel Garage Doors
Warehouse & Service Bay Overhead Doors
Sliding / Swing Gates & Gate Operators
Counter Shutters
Rolling / Sliding Security Grilles
Trolley & Side Mount Openers
Docking equipment
Truck doors
Commercial door operators
ALL MAKES, MODELS & BRANDS!
For more info please call now : 647-277-1182