King Garage Door Repair

installations and repairs of commercial and residential garage doors in King we do opener , springs ,cable and drum repair and replacements .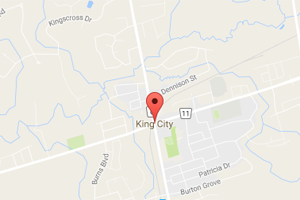 Having a new garage door installed into your King home should be the first step to upgrading the appearance of your home.  Our customers are always shocked to see how much a difference having one of Express Garage Doors wide selection of garage door installation options can have.
Garage Door Repair and Installation in King Township & King City
One of the most important parts of any garage door installation is the garage door springs. If these are not properly installed the garage will simply not function.  They can become damaged over time and require replacement too.  The Express Garage Doors team are experts at this and are waiting for your call so that can have your garage door working again in no time.
Garage door cable installation is another very important part of the garage door installation process for your King home. We take this stage of the process very seriously as well as we want your garage to work whenever you need it 24 hours a day.
After you have had one of our great garage doors installed into your King home, we can be on hand to ensure that it remains perfectly functional for many years to come. Our team can provide regular maintenance on your garage door to help identify small problems before they grow.
From start to finish we can completely remove your existing garage door and provide a brand new garage door installation. Like many of our other satisfied customers in the King are, you will be thrilled with your home's new look.
Getting in touch with the Express Garage Doors team is the first step to repairing or replacing any component of your garage door.  If you have even a slight suspicion that your garage door is not working as it should then contact us today and we can help identify what the issue is and have it fixed in no time.
Same Day Professional Commercial Garage Door & Opener Service
We Only Repair What is Actually Broken
Flat Rate Spring Changes
Fully Trained Technicians
Fully Insured, Licensed
King Garage door is your  ideal Source for Commercial Overhead Door & Opener Repairs & Maintenance.
Undergound Parking & Parkade Doors & Gates
Rolling Steel Garage Doors
Warehouse & Service Bay Overhead Doors
Sliding / Swing Gates & Gate Operators
Counter Shutters
Rolling / Sliding Security Grilles
Trolley & Side Mount Openers
Docking equipment
Truck doors
Commercial door operators
ALL MAKES, MODELS & BRANDS!
For more info please call now : 647-277-1182